My grandmother, Ella P. Jordan Dale, used to tell wonderful stories about her family's early pioneer days in Washington Territory. She dolloped spoonfuls of tongue-in-cheek humor and insights on human nature into these tales, which keeps them fresh with meaning over the decades. Her writings have inspired my own interest in family history.
Ella wrote much of her memoir Life on the Farm for the Seven Jordan Sisters 1890-1919 as installments for a creative writing class in Seattle. Occasionally, she lost faith in the project, commenting that "folks won't want to read these things," and wondering about the value of her closely observed accounts of daily life more than a century ago. Fortunately, she kept all of her drafts, and after her death in 1974, her son, Eugene "Bud" Dale, pulled them together into a book intended for family members. The first edition quickly sold out, and a second edition was printed. Ella's memoir became available as an e-book in 2016.
These pages offer more background on Ella's ancestry and family members, going back to French Huguenots arriving in the 1670s in Quebec, to fur traders and land developers along the Mississippi River, and on to settlers in one of Stephen Austin's colonies in Texas. Her great-grandfather fought in the Texas war for independence, and a great-grandmother made the covered-wagon and train trip to Oregon Territory in 1887 with children and grandchildren.
Family tale unfolds across three eras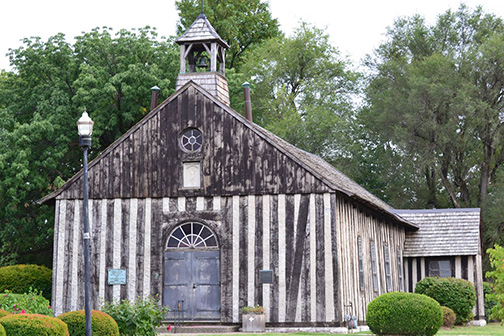 Holy Family Church, Cahokia, Illinois, was the center of social life for French villagers.
1 - Pensoneau: 1660s Quebec, to 1800s Illinois
These pages explore the history of three Pensoneau brothers who settled in Cahokia, Illinois, prior to 1800 and their ancestors who came to Quebec from France in the 1660s. The focus is on Etienne Pensoneau, a builder and real estate developer in Cahokia, Belleville, and East St. Louis, Illinois. Also featured is his nephew Paschal Pensoneau, who married into the Kickapoo tribe, settled in Kansas, and worked as an interpreter for treaties and in the fur trade. His granddaughter's husband, Vital Jarrot, is also profiled. He inherited a fortune and helped to build the area's first railroad, panned for gold in California, served in political offices, and was appointed agent to the Sioux Indians by his friend, President Abraham Lincoln. And finally, Etienne's daughter Marie Rebecca provides the link to colonies in Texas and further adventures there.
Read more:
---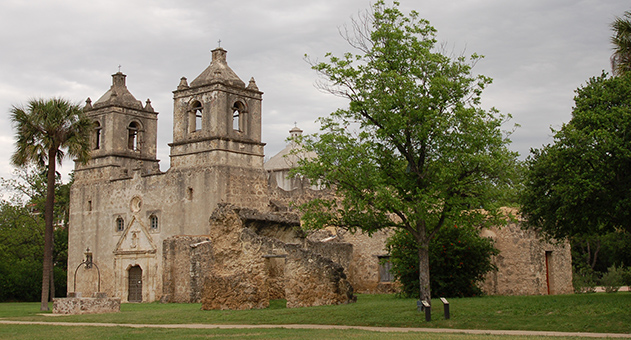 Texans fought an early battle against Mexican troops at Mission Conception, San Antonio.
2 - Magill, 1830s-40s: a colony in Texas, war for independence, Rangers, and cattle business
The story of William Magill begins when he settled in Texas in 1833 and continues through his service in the early Texas Rangers and in the militia that fought for independence from Mexico. He married Rebecca Pensoneau in Bastrop in 1838, though no one knows how she got there from Cahokia. The Magill family is well documented back to William's ancestors arriving in Virginia colony in the 1680s, and through the American Revolution to the early settlement of Kentucky. William left there on horseback when he was twenty and rode to Texas, where he became part of Stephen Austin's "Little Colony" of Bastrop. He was granted thousands of acres of grassland and went into the cattle business. His parents and younger brother joined him and Rebecca in Texas in time for his father and brother to fight alongside him at the Battle of Plum Creek in 1840.
Read more: