Magill children, grandchildren leave Texas in 1887
William and Rebecca must have instilled a spirit of adventure and willingness to pioneer, for three of their sons – William H. Jr., Samuel M., and James K. – and their families became early pioneers in Washington State. They and other relatives left Texas in six covered wagons on June 7, 1887 and traveled eight weeks to reach Las Vegas, New Mexico, where they boarded the Union Pacific train to the Pacific Northwest. Alice Magill later wrote an account of their journey, which begins below.
More family members joined them in southwest Washington over the years, though some moved on to California. A granddaughter of William and Rebecca, Mabel (Epperson), moved to Washington in 1890, along with her husband Charles Jordan and two young daughters. They established a farm near Mossyrock, Lewis County, and their family grew. Their fifth child, Ella Pearl (Jordan) Dale, wrote a memoir of the family's early days in Washington, Life on the Farm for the Seven Jordan Sisters, 1890-1919
. The book was published in the mid-1970s, and it soon will be available as an e-book.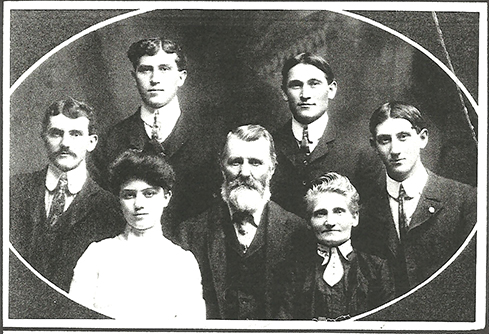 William H. Magill, Jr. and his wife Milly left Texas in 1887; at the time, their children ranged from age three to ten. Stepson John Thomas Lyon was the oldest, then came James S., Arthur, and Carol.
Alice Magill recounts trip by covered wagon and train
O
n June 7th, 1887, a small group of 24 people left Valley Springs Texas in six covered wagons. They turned west across the plains, with our destination West Washington State in the extreme Northwestern part of the United States. The members of this group consisted of: J.K. Magill, unmarried and the oldest brother of the three Magill men in our group, William H. Magill, his wife, Millie and their four children, John Thomas (Tommy) Lyon, around 10 or 12 years old (he was a step-son), James S. (7), Arthur (5) and Carol (3). Samuel M. Magill, his wife, Alice (myself) and their three children, Hugh H. (9), Angie (4), and Mabel (2). J.M. Epperson, his wife, Sarah, and their three children, Ben (10), Leah (7) and Lucy (4). Harris Keele, his wife Martha and their four children, Jessie (12), Ida (10), Willie (6) and Ben (4). (Editor's note: A note in the margin says that she forgot to include grandma Sarah (Wilson) Epperson.)
We ate lunch at the home of G. S. Bourland, a brother-in-law of the Magills. His wife, Naomi, accompanied us as far as Tom Green County, to visit another sister, Mrs. Lou Taylor, where we left her. The first night out we camped under an arbor, which was used for picnics and other gatherings. (Editor's note: Naomi Bourland and Louisa Taylor were both daughters of William and Rebecca Magill.)
The next morning, June 8th, we traveled on to Brady, a small town in McCullock County. We drove out a few miles and stopped near the San Saba River. We started to set up our tents and make camp, but we were hindered by a severe wind and rainstorm, common to that section of the country. We were forced to remain in our wagons throughout the night, with only a cold lunch for supper. The lunch proved to be a problem as our "mess boxes" were built onto the rear of the wagon. It had a table that could be let down for use, with a leg to brace it. When traveling, this table remained closed and acted as a door .Read more