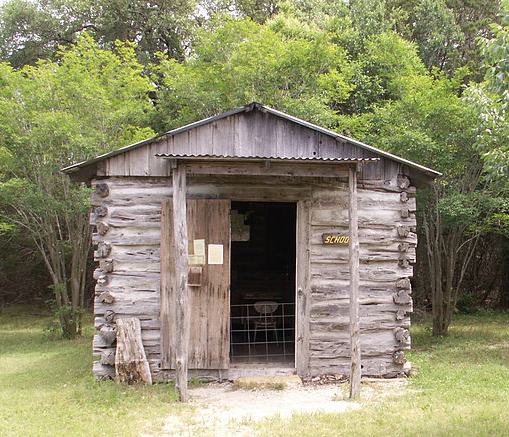 The school that Logan Vandeveer built stands at Fort Croghan. (Photo courtesy of Creative Commons)
Magills enjoy friends, parties, adventurous children
William and Rebecca lived in Bastrop, in their house on Pecan Street, and raised seven children. William had claims totaling 1,280 acres of land for his military service, which he had surveyed and registered to the west of Austin. The land was located about one hundred miles directly north of San Antonio, and he used it for grazing cattle.
He and Logan Vandeveer were going into the cattle business together, and their families were close friends. In 1838, Logan married Lucinda Mays in Bastrop, and her life closely paralleled Rebecca's life, after she married William that same year. Lucinda also gave birth to seven children.
Historian Darrell Debo wrote, "The closeness of Magill and Logan Vandeveer is seen in that the homes of both men were in the same proximity, and their affinity for each other was demonstrated in that the men named one of their sons after the other (William Harrison Vandeveer, who died young in Bastrop County; and Logan Vandeveer Magill, who lived and died in Burnet County)."
When the U.S. Army built Fort Croghan in what is now Burnet County, William and Logan won contracts in 1848 to supply beef and feed to the fort. The two of them, along with Noah Smithwick, were also contracted to supply food to Indians in the area, in hopes of decreasing raids or attacks.
William served as the executor for the estate of Conrad Rohrer, the wagonmaster for Sam Houston's army and an early Bastrop settler, and in 1850, he sold the estate's land claim in Burnet County to Lyman Wight, the head of a group of Mormon immigrants who started a gristmill there. The site, called Morman Mill, was later converted to a sawmill and sold to Noah Smithwick.
In 1851-1852, the men joined in petitioning the state legislature to create Burnet County. When the Legislature agreed, William was appointed to the first board of County Commissioners, and his brother James served as the county's clerk. The Burnet County Monument to its earliest settlers lists William Magill, Logan Vandeveer, Peter Kerr, and Noah Smithwick.
A bitter fight over the location of its capital ensued, and the town of Hamilton, where Logan lived, was named as the county seat. He also served as a commissioner of the county, and as its first postmaster, in 1852.

The following year, Logan opened the first school in the area. It was known as the Collegiate School, and he hired William H. Dixon, an Oxord University graduate, to teach a broad range of subjects. The schoolhouse has been preserved and is now on the grounds of Fort Croghan. A stone building Logan constructed in 1854 still stands in Hamilton and is used as the Masonic hall.
Rebecca had died before William moved out to Burnet County. She died in either 1848 or 1849, at about thirty-one years of age; her gravesite is not known. Her last child, John, was born in 1848, and she may have survived his birth by only months. The census of 1850 does not list her, and William is not listed as a married man. Their son John, aged 2, was enumerated with Logan and Lucinda Vandeveer's family, suggesting that they were helping to raise him.
Lucinda may not have lived much longer; it is believed she died in 1851 or 1852; her gravesite is also not known. In 1854, William left his children with the Vandeveers and returned to Kentucky, where he married Elizabeth Hendrick. She returned with him to Texas, and over time, the couple raised ten children.
Shortly after that marriage, Logan and his brother Zachariah both died. In the summer of 1855, they and several other men were driving cattle to Louisiana when Logan contracted yellow fellow. He died on September 2, and was buried in Plaquemines Parish; his brother died two days later.
The Magills' youngest son, John, was killed at age fifteen by Comanches after he and several others from town had ridden about five miles west of Burnet in pursuit of missing cattle. His companions escaped, but he was shot and scalped, and he died of his wounds. John was the first person buried in the Magill Family Cemetery.

The following year, William performed his final military duty by serving as a captain in the Home Guard during the Civil War. He had been active as a Mason for years and held offices in the Masonic Valley Lodge, which he had helped found in 1855. His brother James also held offices in the Masonic Lodge, as did Logan Vandeveer. William was a Protestant, and he owned five slaves, as listed on the 1860 Slave Schedule; these were a 34-year old Black woman and four Mulatto children, aged seven, six, four and two.
William's parents, Samuel and Nancy Magill, both died in 1865, and William died December 17, 1878, of illness. He was buried in the Magill Cemetery, near his parents and son John. His second wife, who died in 1914, was buried there as well.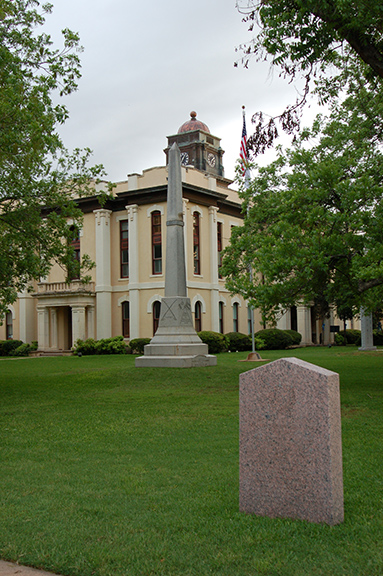 The courthouse now stands where Bastrop's stockade was once located.