William's parents and brother joined him in Texas
March 1840: A rescue at Longhorn Cavern becomes legendary
In the spring of 1840, the chiefs of several Comanche Indian bands came to San Antonio for peace talks. They agreed to bring captives they held from among the white settlers, and they did free several when they arrived at the Council House for negotiations. But things went horribly wrong. Texan tempers flared when captives held by other bands were not delivered, and shots were fired inside the building, resulting in multiple deaths on both sides. As fighting erupted into the streets, other Comanches who had come to town were hunted down and killed.
Out of the Council House fight, a legend has grown involving William Magill. The story tells how he, Logan Vandeveer, and Noah Smithwick rescued a young woman taken captive by Indians fleeing San Antonio.
A fairly fanciful version is recounted in connection with Longhorn Cavern State Park, about 100 miles north of San Antonio. In the tale, Logan Vandeveer was scouting outside the city after the Council House fight March 19 and found evidence that settlers bringing a wagonload of goods had been attacked by fleeing Indians. The men had been killed, but he followed bits of ribbon and lace on a track heading north. Along the way, he located his two friends and the three men followed the trail to the cavern, called Sherrard's Cave at the time. The captive was Mariel King, described as a young, beautiful society belle of San Antonio.
The men sneaked into the cave and spied her standing near a wall, with her hands bound. They waited while the Indians began a campfire to cook a meal, then rushed in and took her, fighting their way out. One account claims that they killed three Indians, while the others say merely that they escaped with her. The story as retold in the Houston Chronicle in 1986 includes the embellishment that Logan Vandeveer later married Mariel King, for a perfect "fairy tale" ending. However, he was already married to Lucinda Mays at the time.
Contemporaries who usually recounted such battles—including Henry L. Brown, John H. Jenkins, and Noah Smithwick himself—do not mention such a rescue. Smithwick's memoir does say that he was involved in many ventures to help or rescue local settlers in those tumultuous times.
William's granddaughter Lora Fulton Magill gave this account in her biography for the Daughters of the Republic of Texas: "In 1840 Magill and Noah Smithwick joined Logan Vandeveer in his pursuit of Comanches fleeing the council house fight in San Antonio. The savages, holding a white woman named Mariel King, went to ground in what is now Longhorn Caverns. Vandeveer, Magill and Smithwick, with the dark and surprise as allies, ferreted out the Indians, killing most of them and saving Miss King with no loss on their side."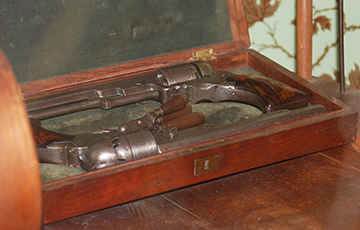 The Colt revolving pistol allowed firing five shots from horseback and changed the way Texans could fight.
August 1840: William's father and brother joined the battle at Plum Creek
William fought in another battle against Comanches that year—this time, along with his father and brother.
William's parents, Samuel P. and Nancy (Shackleford) Magill, had come to settle in Bastrop; they would live there the rest of their lives. William's brother, James P., was fifteen years old when he rode off with his older brother and his father on August 12. All survived without being wounded.
Ed Burleson had called up militia and Rangers from Bastrop, and they joined others from Gonzales to fight a large group of Comanche led by Chief Buffalo Hump.The Comanche had traveled down the Guadalupe River Valley, raiding settlers along the way, and arrived at the port of Linnville, where they robbed warehouses of goods and then burned the town. Many settlers of Linnville escaped by boarding boats and heading out into the bay.
The Comanche were returning north, laden with goods and moving slowly, when the Rangers and militia caught up with them near Lockhart. The ensuing Battle of Plum Creek turned into a major victory for the Texans.
Some accounts say that this was the first time Texans used the Colt revolving pistol, a weapon that would change how they were able to fight. The first Colt revolvers carried five shots, and they were light and accurate enough to fire while riding horseback. The Comanche had always fired arrows—a dozen in just moments—from moving horses, and with the Colt, the Texans for the first time were able to fire multiple shots while riding.
The Texas Navy had bought the first shipments of the revolving pistol invented by Samuel Colt, though the Army had rejected the model as being too heavy and likely to overheat. But a few were available in the area, and by some accounts were used with success at Plum Creek.
Samuel Magill had followed family tradition by fighting in the War of 1812
When William volunteered to fight in the militia and the Texas Rangers, he was taking part in a long family tradition. The Magills had volunteered for service, and had gained land claims for this, for more than a century.
William was born Jan. 3, 1813, during the War of 1812, and his father, Samuel P. Magill, was one of the Kentucky volunteers who went off by the thousands to fight and serve as key forces under General William H. Harrison. He enlisted as a private in Capt. Dudley Farris' company, and then served as a sergeant in Capt. Jonathan Owsley's company in the Battle of New Orleans, January 1815.
Not only had William's father served in volunteer militia, but his great-grandfather had served in the American Revolution. William would have understood that militiamen in victorious armies might be rewarded with grants of land, as had happened following those wars.
William's great-grandfather John Magill, born in 1720 in Tullycarn, Ireland, immigrated with his parents and siblings around 1725. Family histories maintain that the Magills lived in Scotland before moving to Ireland, and that they were Protestant. John and his wife Mary Patterson had nine children, and few of them stayed put in Virginia, where the family first lived in the New World.
The couple's son John, born 1759 in Augusta County, received a classical education, served in the American Revolution, and trekked the Wilderness Trail to Lincoln County, Kentucky in 1782. He recounted the experience of settling this new land in his book The Pioneer to the Kentucky Emigrant, published in Frankfort, Kentucky, 1832. The content, including battles with Indians, had been serialized earlier in John Bradford's newspaper, "The Kentucke Gazette," the first newspaper west of the Allegheny Mountains.
Another of their sons, James, also came west to Kentucky, where he died in 1823; he and his wife Sarah Frame had numerous children, among them Samuel Patterson, who was William's father. Samuel grew up undoubtedly aware of the land-taming and Indian-fighting pioneer life sketched in his uncle's book, and also of his family's service in the American Revolution. Records suggest John registered and abandoned various land claims as he moved into Kentucky.
According to Zachariah F. Smith, a historian of Kentucky's role in the war, from 1812 to 1815 the state enlisted forty regiments of volunteer militia, plus battalions and companies, totaling more than 24,000 men. William's father, Samuel, was part of troops that aided the American victory at Thames River, over General Proctor and Indians under Tecumseh, and not just by fighting on land.
Smith wrote, "Before Commodore Perry met the English fleet on Lake Erie, he called for one hundred riflemen from Harrison's army to perch upon the masts and rigging of his ships, as sharpshooters, to pick off the seamen and gunners from the enemy's decks. One hundred Kentuckians volunteered in this perilous service, and others vied with them (for) the honors of the place, though all were landsmen and strangers to the sea." They helped to silence the guns on the British ships by shooting down the gunners.
Prior to this victory, Kentucky militia had suffered losses at the Battle of Frenchtown, where hundreds of infantry under General James Winchester, who had been taken captive, were slaughtered by British troops. The Massacre of the River Raisin, as it became known, continued under the watch of British officers until Tecumseh, chief of coalition of Indian tribes, put a stop to it.
A survivor of that defeat, Samuel would have returned to Kentucky; he volunteered for another enlistment and traveled down the Mississippi River to New Orleans. In January 1815, he served as a sergeant in Capt. Jonathan Owsley's company, part of Lt- Col. William Mitchusson's Kentucky Detached Militia. Mitchusson's troops were assigned to Brigadeer General John Adair and held in reserve during the key battle on January 8 that was a momentous victory for Americans.
When William went into battles, he would draw on his family's tradition, as well as the knowledge that a loss could be followed by a massacre, while victory might be awarded with land grants. Those same patterns held true in Texas.