Arriving in 1665, Pinsonnault stayed in Quebec
When three Pensoneau brothers came to Cahokia, Illinois, late in the 18th Century, they were continuing a family pattern of travel, trade, soldiering, and settling. Their parents and grandparents lived near Montreal, and men in the family had explored the tributaries and lakes of the Mississippi River system in 1682 with Robert, Cavalier de LaSalle. And their great-grandparents had made the lengthy sea voyage to New France in the 1660s.
When their forebear François Pinsonnault left France in 1665, it was still a medieval world. He was born in 1646 in northwest France, in the town of Saintes, Charente-Maritime, and served in the Carignan-Salières regiment. The soldiers had fought Turkish troops in 1664 at the Battle of Saint Gotthard Monastery, in Hungary, where the French counterattack aided in a victory that prevented Ottoman troops from moving into Vienna and Graz, Austria.
The regiment was then posted to France's new settlements along the St. Lawrence River in North America, where they would fight Iroquois Indians and accompany voyages of exploration. François sailed on La Justice, which departed May 24, 1665, from La Rochelle, on France's Atlantic coast. It arrived in Québec on September 14, 1665, after a voyage of 117 days. Though men in the regiment were given the choice two years later to return to France, he was among those who decided to stay.
François was confirmed in the Catholic Church May 20, 1668, at Chambly, in the Richelieu Valley. Perhaps he had been a Huguenot, a French Protestant, before this time. France had become intolerant of the religion, and by 1672, the Edict of Nantes gave Protestants 20 days to leave the country. The Catholic Church was key in administering the lands and towns of New France, and religion was important for establishing claims.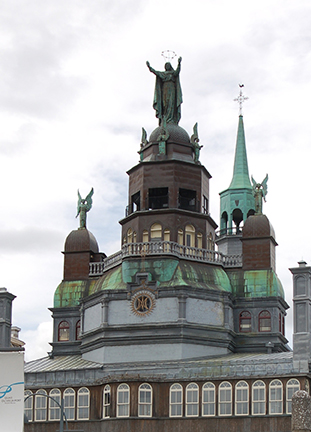 This Montreal church houses the historic chapel that welcomed the Filles du Roi.
When François was 27, he married a young woman who had just arrived in Quebec. Anne LeBer was one of the Filles du Roi, (Daughters of the King), young women whose travel, education and dowries were financed by King Louis XIV if they agreed to travel to New France with the intention of marrying and settling. Nothing is known of Anne's origins or family, though the ship she was on, L'Espérance, (Hopefulness), carried the last Filles du Rois among its fifty-one passengers. These women were mainly intended to marry men in the Carignan-Salières regiment. Some were noblewomen betrothed to officers, or were bourgeoise—meaning their families owned land and businesses—intended to marry the soldiers. The ship left La Rochelle November 7, 1762, and arrived in Québec on March 9, 1763, having sailed 122 days under the command of Guillaume Bassett.

The program that brought young women to New France began with Anne of Austria, the mother of Louis XIV, and continued when the administrator for New France, Jean Talon, requested that the king fund it; all told, some 700 women came. The king financed their travel, dowries, furniture and household goods, and gave them 50 livres (pounds) in addition. Women who stood to inherit tracts of land in France often could take land claims of their own in New France.
In Montréal, the young women were met by Marguerite de Bourgeoys, who ran a school that taught the skills they would need to run a household in the wilderness. The new arrivals were fed and housed, often placed with families, religious groups, or other new arrivals. De Bourgeoys' own house included a chapel, and though it burned long ago, the house is now a museum, and the chapel is an archeological site. She held soirées, or evening receptions, where the young women met the farmers and soldiers who hoped to marry. The women were expected to decide fairly quickly whether they would stay and marry, or to return to France. The Filles du Roi preferred to marry men who had established land claims and had built homes.
Anne Gasnier, who lived in Québec City, would travel to France and help select young women for the program, placing a high priority on those who seemed suited for farm work. Earlier Filles du Roi came from cities such as Paris, and from orphanages, and often were not in the best of health, especially after the sea voyages, during which many died. Another woman, Elizabeth Estienne, often accompanied the girls on the voyages.
Many books have been written about these women, considered the "Mothers of French Canada." A number of family names of soldiers in François' company show up later in Cahokia, Illinois, where the Pinsonnault descendants settled in the late 1700s; among them are Pierre Mesnard (Menard); Luc (Lucas) Poupart, and Jean LeCompe, who also married a Fille du Roi, Marie Angélique de Portas.
On May 1, 1673, François and Anne were married. They started their home at St. Ours, in the Richelieu River Valley, where his company was posted. They had eight children, four of whom survived to have children of their own. In the census of 1681, Anne is listed as 34 years old, indicating she was born in 1647; this also states she was from Poitou, Charentes, France. The census noted that François had the nickname La Fleur (Flower). The French commonly used such nicknames, and La Fleur suggests the family had fields with wildflowers or kept extensive flowerbeds.
François died at about 8 p.m. on January 26, 1731, and was buried the next day in La Prairie. The family was now living in this community, just across the river from downtown Montreal. Anne died a year later and was buried in the same place. Their son Jacques, born March 13, 1681 or 1682, married Marie Elisabeth Bourassa July 21, 1712, at La Prairie. Historical records show that Pinsonneau men who lived in the area served in the local militia; in 1762 one was captain of the militia, and one is mentioned in Benedict Arnold's papers as carrying messages during the American invasion of Canada.
The census and other early recordkeeping for the French settlements were done by a priest, Cyprien Tonguay, for the Séminaire de Quebec. This organization, which sponsored missionaries and teachers, maintains archives open for research. Tonguay later traveled to La Cahokie, or Cahokia, which was for many years the heart of French settlement in the Mississippi River Valley. The town's Holy Family Church, founded as a mission in 1698, is among the oldest churches in continuous service in North America. Tonguay used the church's records of marriages, christenings, and deaths to create complete listings by family name. These include the family names for mothers and fathers of both the man and the woman involved in a ceremony. His records, tied into thick, square little notebooks, had not been published by 2010, and seem not to have been completed.
Three Pinsonnault brothers came to Cahokia between 1785 and 1795: Louison, Etienne, and Louis. They were grandsons of François and Anne's son Jacques and his wife Marie, who had fourteen children. That couple's son Paschal, born April 19, 1729, in LaPrairie, was the father of the three brothers. Later, two other young Pinsonnault men also settled in Cahokia; August and François were most likely cousins. They used a variety of spellings for the family name.