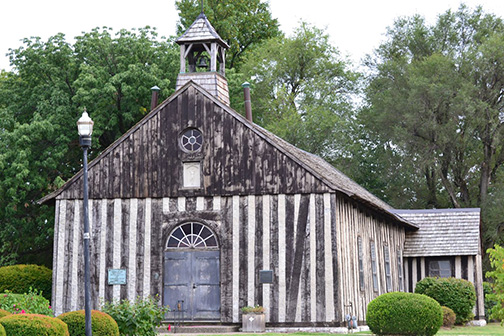 Holy Family Chapel, Cahokia, Illinois. (Photo by Val Dale)
The church, with vertical wood timbers, was built at Cahokia in 1699, by priests of the Jesuit Seminaire de Quebec, who were reaching out to the local Cahokia, Tamaroa, Peoria, and Michigan Indians. Much of the Pensoneau family's history is documented in the church's records of births, christenings, marriages, deaths and burials. Recognized as the oldest church west of the Allegheny Mountains, it has been extensively restored. The church had burned in the early 1700s, and Etienne Pensoneau's first project upon arriving in Cahokia was helping to rebuild it. For a photo gallery, visit the site for Rome of the West.
Two of Etienne's building projects still standing
Etienne Pensoneau was a master carpenter who liked to build things. His first project upon arriving in Cahokia was helping to rebuild Holy Family Church in 1799; its upright-timber structure had been damaged by a fire years earlier. Etienne arrived via Vincennes, Indiana, where he had married Rose Villeneuve. Soon, they had two children, Susanne and Laurent.
Carpentry was not an unusual trade for a young man growing up in Montreal at the time. Etienne was born December 26, 1769, in La Prairie, across the St. Lawrence River from the city. He was about thirty when he arrived in Cahokia, and he began using a shorter spelling of the family name, though his brothers Louis and Louison, who also settled there, tended to use Pinçonneault, or Pinsonneau.
Over the next twenty years, Etienne constructed a number of buildings, ran a store, hotel, tavern, ferry, and gristmills, and was an early real estate developer for the towns of Belleville and Illinois Town, which grew into East St. Louis.
Illinois was part of the United States' Northwest Territory, and as American officials sorted out land claims, they granted Etienne 120 acres as an early French settler and head of a household. He served in the St. Clair County militia and was elected captain of the local unit in 1808 and in 1810, though he does not seem to have been awarded land for that service. Etienne bought, sold, and gave away hundreds of acres; he gave his daughter Susanne five hundred acres of farmland on her eighteenth birthday.
While Etienne's brothers Louis and Louison naturalized as U.S. citizens, Etienne apparently did not, though he served as a witness for them. Contemporary accounts refer to him as a wealthy, fiery, slave-owning, and religiously devout French Canadian.
In 1812, the Court of Common Pleas hired Etienne, Augustine Pensoneau (probably his cousin), and François Turcott to build a jail out of logs to measure eighteen by fourteen feet, with a dividing wall creating two rooms. The men completed this in six months, and several years later, Etienne was hired to build a new county courthouse, the second one for St. Clair County.
In 1815, Etienne began work on the two-story frame building on Belleville's public square. Though he completed the courthouse two years later, he was never paid the full $1,525 amount of the contract. The county still owed him $812 in 1819, when the sheriff was ordered to sell enough lots in Belleville to pay off the debt. According to family history, Etienne had been paid interest on the debt in deerskins, and when he was awarded the lots as a final payment, he traded them for a pair of new boots.
Earlier, Etienne had played a role in helping to develop Belleville. When local officials decided to move the county seat away from Cahokia to a new location on a relatively undeveloped homestead, Etienne purchased the land from the owner, George Blair, and had it surveyed and platted.
Among the buyers of housing sites in Belleville was the former Illinois governor John Reynolds, who wrote a history and a personal memoir of early St. Clair County. He described Etienne as a man of "extraordinary energies" and considerable wealth. But he felt that Belleville never really prospered until Etienne sold the site. The area had fallen into economic depression following the War of 1812, just as Etienne was trying to develop the town.
Etienne's other real estate development project eventually grew into the city of East St. Louis. He began surveying and platting a town called Jacksonville on land he owned across the creek from Cahokia. But the Mississippi River was undercutting its banks on that shore, so Etienne relocated the site farther east. Later, he sold it to developers from St. Louis, who named it Illinois Town. The river continued to erode the banks and flood the land regularly, and in 1837 a young lieutenant with the U.S. Army Corps of Engineers, Robert E. Lee, came to supervise building dikes and dredging the river so St. Louis, across the river, could continue to grow as the main port.
For decades, a large, two-story brick house that Etienne built in 1810 stood at the corner of Menard and First streets. He and his family lived in it for a time, and later used it as a hotel. His granddaughter lived there a generation later, along with her husband, Vital Jarrot, who served as mayor of Illinois Town, which by then was commonly called East St. Louis. A devastating flood in 1844 swept away many businesses and houses of Illinois Town, though Etienne's brick house still stood. However, in the years after the Civil War, the building fell into disrepair; by 1890 it had been demolished.
In addition to farmland and town sites, Etienne owned mills. Gristmills generated considerable wealth, for French farmers ground wheat into particularly fine flour that fetched top prices at the markets in New Orleans. Illinois law required millers to set up separate days for Americans to grind their corn, and strictly regulated serving customers in the order they arrived. Etienne bought a gristmill in 1810 and later built another on Richland Creek, near Belleville. After his death in 1820, his heirs sold that mill, the indentured servant Matthieu who worked there, and fifty acres of adjoining land.
One house Etienne built still stands: the home for his son Laurent and daughter-in-law Odile Caillot. The Pensoneau-Caillot Pioneer House, built in 1818, is noted by an Illinois Waymarks plaque, and descendants of the family still live there.
Holy Family Church's record of Etienne's death
Etienne Pinsonneau –Le premier janvier, mil-huit cents vingt-un, par nous sousignés a été inhumé dans le cimetière de cette église le corps d'Etienne Pinsonneau, époux de défunte Elisabeth Clark décedé hier matin age environs de quarante-huit ans, présens francois turcot, joseph laperche, julien lecompte
Etienne Pinsonneau – January 1, 1821, we the undersigned buried in the cemetery of this church the body of Etienne Pinsonneau, husband of the deceased Elisabeth Clark, who died yesterday morning, about forty-eight years old; present: Francois Turcot, Joseph LaPerche, Julien LeCompte