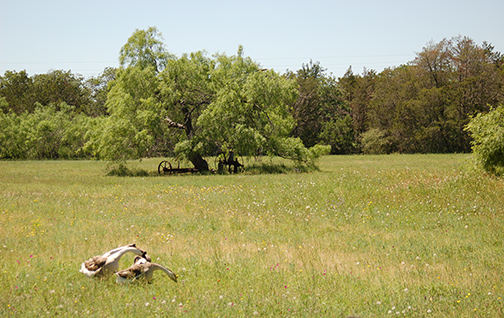 Geese explore near old farm equipment in a field outside of Bastrop.
Bastrop endured numerous Indian raids from 1836 to 1838, as the town's life slowly resumed
William returned to Bastrop and mustered out of the Mina Volunteers June 1, 1836. The town was empty and partly burned, but his own house was standing. Indians in the area were stepping up attacks, feeling the settlers were weakened and vulnerable, and Comanches raided Bastrop numerous times, sometimes coming into town in broad daylight.
Once again, men formed Ranger companies and militia units. It is not clear which units William served with during the summer and fall of 1836. Family history says he joined Sterling Robertson's unit and served under Capt. Calvin Boales. As units grew and reorganized, it is possible that he served under Jess Billingsley. No complete list exists for Billingsley's unit, and he left the militia in August when he was elected to represent the area in the new Texas Congress. William mustered out of Clark J. Owens's company in December 1836, and that list notes that he began serving July 20.
Militia duties that summer blended police work, ranger missions, battles against Indians, and helping settlers to rebuild. Everything was in short supply, including food. William would be rewarded with land grants for each five or six-month term in the rangers or militia. His enlistments for the summer and fall of 1835, and again for 1836, each brought 320 acres. He was also award 640 acres for taking part in a major battle, in his case, San Jacinto.
But more than a year would pass before Texas established a lands commission and set up procedures to survey and register claims. In the meantime, communities had to transition from Mexican administration to American-style governments. In late December, William was in Victoria, the town serving as a temporary capital for the Republic, where he bought a large supply of legal books, ledgers and stationery. He later was reimbursed $78 for these supplies by Bastrop County. At the same time, he signed a chit for Jesse Billingsley to represent him in all matters regarding military claims and pay.
Stephen Austin also was in Victoria, though not as president of the new Republic of Texas. That honor had gone to Sam Houston, while Austin had agreed to serve as secretary of state. But, he had been ill all fall, and he died that month in an unheated lean-to built on the side of a cabin, a space that he'd been able to rent. Another three years would go by before the town of Waterloo, farther north, was renamed Austin and designated as the capital.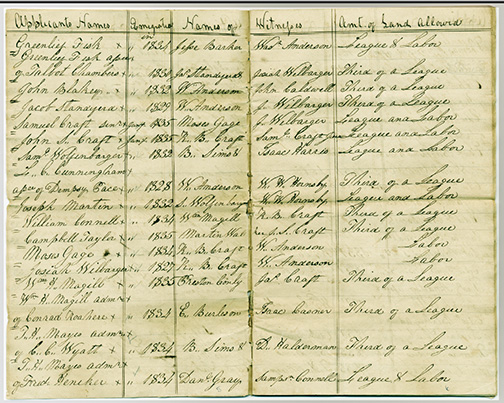 William Magill made his headright claim in February 1838 at Bastrop; his name appears about two-thirds of the way down the page. He later amended his claim as a married man. (Bastrop County Court Clerk file)
No town suffered more than Bastrop from Indian attacks in the two years from 1836 to 1838, according to historian Henry L. Brown. Women and children stayed close to town and felt vulnerable even out on the streets. Men formed teams to work in the fields, so they could guard each other.
Shortly after the militia returned June 1, a friend of William Magill's, Conrad Rohrer, was killed by an Indian while Rohrer was saddling his horse in a dooryard in Bastrop. He was an early settler of Bastrop and had served in the militia; General Sam Houston had named him wagon master for the army during the spring. William was named as the executor for Rohrer's estate, and over the years, he handled the land claims that Rohrer had earned.
The early settlers of Texas were given a window of time early in 1838 to register their headright claims. People arriving after the new republic's birthdate in March 1836 had to establish several years of residency before making their claims.
On February 2, 1838, the early settlers, many of them Stephen Austin's colonists, gathered at the courthouse in Bastrop to register their claims. Each man was required to have two witnesses who would swear to the year that he had arrived. In the document from that day, William's name is the thirty-third one appearing. Two witnesses swore for him, and he served as witness for several other men.
William arrived in Mina (Bastrop) in 1835, and he was granted one-third of a league of land (about 1,476 acres), plus one labor. A labor was about 177 acres and usually included access to a creek or river. The land claims had to be surveyed right away, and within a month William registered the survey of his original land claim near Victoria.
The land was not free; a man claiming a headright paid $5 per labor of arable land, and $2.40 per acre of pasture. William's land was surveyed as four labors of arable and four and a third of pasture, bringing his fees to just over $30.
In the summer after William and Rebecca Pensoneau married, he amended his claim as a married man entitled to two-thirds of a league of land, nearly 3,000 acres. It is not known how he and Rebecca met, nor how she got to Texas from her home in the French community of Cahokia, Illinois. Her background is described on this site in the pages of Pensoneau history.
William had a break from military and Ranger duties for nearly a year after their wedding, and he performed jury duty in Bastrop over the summer of 1838. Logan Vandeveer also married, and their friend Noah Smithwick notes in his memoir that the two couples were very sociable and enjoyed hosting large parties. The parties were so well-attended, in fact, that they had to devise a password system for their guests, after others were seen riding away with homemade pies and joints of beef. In later years, the couples were the main organizers of the town's large Fourth of July celebrations.
The Magills' house in 2012 consisted of three large rooms, with the front and back doors opening onto the main room. Called the Batts House, it now serves as the guesthouse for the Orgain Mansion, on Main Street. The large kitchen has windows in adjoining walls, affording lots of light, and across the central area from the kitchen is a rectangular area divided into two bedrooms. The larger one has a long window high in the wall, probably to accommodate bunk beds or trundle beds for young children. The smaller room off of it was probably a separate bedroom but has been renovated into a bathroom.
William and Rebecca began a family; their daughter Mary Naomi was born in 1839, and their son, James Kerr, in 1840. These early years remained tumultuous for the town, though, and being a family man did not end William's military or Ranger duties.
When Ed Burleson called for enlistments March 29, 1839, a day after William and Rebecca's first wedding anniversary, William responded, as did Logan Vandeveer and numerous other men in the area. The force was out for several weeks pursing a group of insurgents led by Vicente Cordova. His band, a combined force of Mexican loyalists, Blacks, and Biloxi Indians, was trying to reach Mexico for payment, supplies, and reinforcements to lead an uprising against the new Republic of Texas. The Texans engaged in a battle near the Guadalupe River, wounded Cordova, and killed several men, with one death on their side and several wounded. The Texans pursued Cordova's band until they slipped back inside Mexican territory. William returned safely home and did not enlist again for another year.