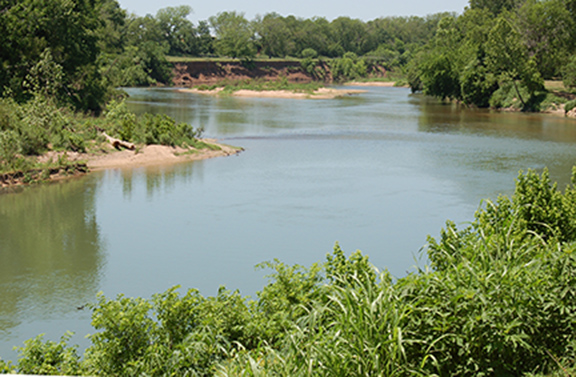 Bastrop is located where the Colorado River crosses the old El Camino Real.
This section begins the story of William Magill, who married Rebecca Pensoneau, in Bastrop, Texas, in 1838. She was an orphan raised in the French culture of Cahokia, Illinois, and how she got to Texas is not known. Her family and background are explored in the previous section of this site devoted to Pensoneau family history.
William Magill fought in battles for Texas independence from Mexico and was one of the original Texas Rangers. He arrived in Texas when he was twenty-one, and by the time he married, less than five years later, he owned a house in Bastrop, claimed thousands of acres of grassland and farmland, and was starting in the cattle business. How he met Rebecca is not known, but it must have been a love match, for family history says her relatives in Illinois disowned her for marrying outside of the Catholic Church. This is their story.
William bought a home, planned a store in Bastrop
William Magill rode horseback from his home in Kentucky to Texas, along with a friend, when he was twenty-one years old. On September 16, 1834, he and William Redmond were granted one-half league of land, about 2,214 acres, in Wharton and Goliad counties in the Mexican province of Coahuila y Tejas.
Family history says William intended to join the "Little Colony" that Stephen Austin was staring in Bastrop, about thirty miles east of present-day Austin. This first land claim lay south of Austin's original colony at San Felipe, while the Goliad land was at the western edge, closer to Gonzales and the colony started by Green DeWitt. Both Austin and DeWitt were from Missouri and worked hard to recruit enough settlers for their colonies to succeed. Later, William abandoned the original site and claimed land farther north, instead.
Austin had to carefully screen and select applicants, for the Mexican government required them to be Catholic, of good character, and with substantial means. He had succeeded at getting 300 families for his first colony, and had received permission to settle two more. But the trickle of immigration had turned to a flood, and in January 1834, the government threw Austin in jail in Mexico City, suspicious that the colonists wanted to secede from Mexico and form their own republic, or possibly join with the United States. Austin was eventually freed and made it back to Texas just before battles began for independence.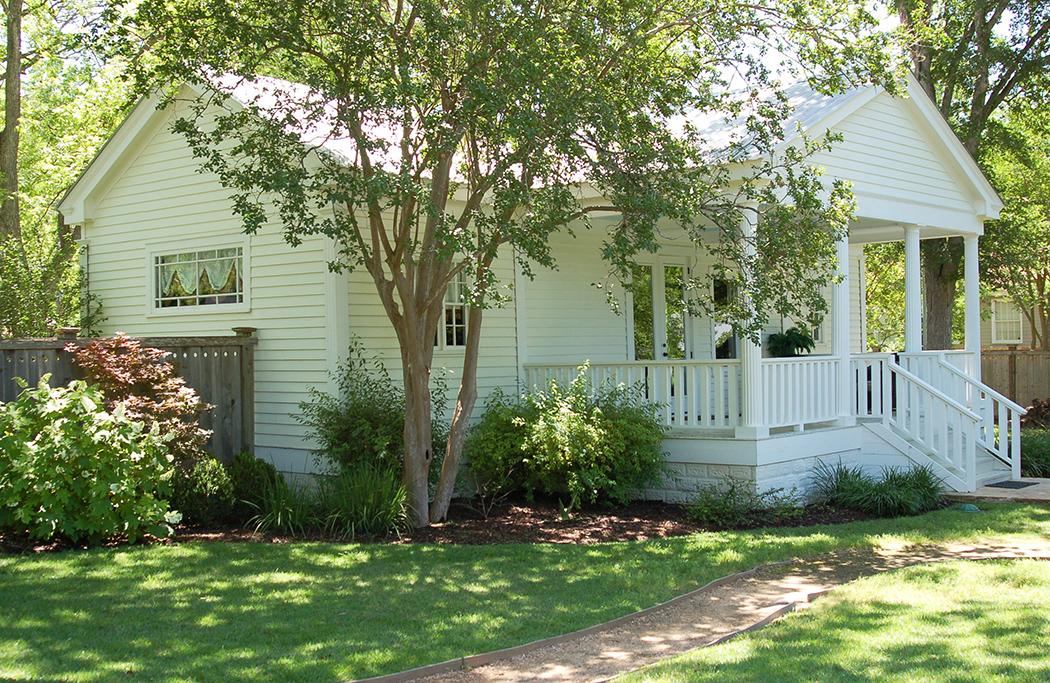 The house where William and Rebecca Magill lived has been renovated and moved to Main Street, Bastrop.
In June 1835, William bought a house in Bastrop, nicknamed Austin's "Little Colony." The town was on the east bank of the Colorado River and so far north that it defined a new frontier within Indian lands. Caddo Indians would try to drive the colonists out, as would the Comanche, who hunted in the area in late summer and early fall. It stood at a crucial place where El Camino Real, a major trade route connecting old Spanish missions, forded the Colorado River and continued south to San Antonio.
The town was still known by its Mexican name, Mina, and it was laid out around a central plaza, with streets radiating out in a regular grid. After Texas won independence from Mexico, the town was called Bastrop, in honor of one of Austin's associates, the Baron de Bastrop (who was not really a baron).
William's house, a single story with a sloping roof and three large rooms inside, still stands, though not in its original location on Pecan Street, directly across from the plaza. It now serves as the guesthouse for the Orgain Mansion, farther north on Main Street. Porches and columns were added after it was angled in among the trees on the lot. William owned the house for thirty years and sold it and half of a block of land in 1865 to A. J. Batts for $130; over time, the town began referring to it as "the Batts House."