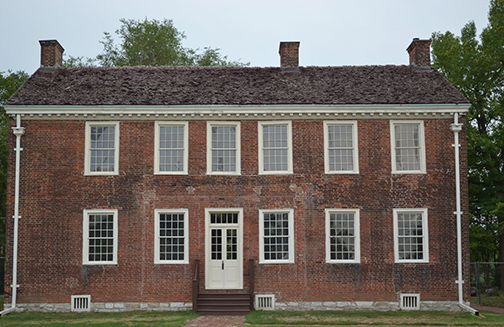 The Jarrot Mansion, Cahokia, Illinois. (Photo by Val Dale)
In 1807, Nicolas Jarrot, a fur trader, farmer and merchant, built the earliest remaining brick home in Cahokia. The window glass came from France, and the walls are two feet thick. Faint remains can be seen of the balcony that once reached over the front porch. The Jarrot family hosted dances in the second-floor ballroom, and local politicians and merchants often gathered to play cards late into the evening. The couple's son Vital married Etienne Pensoneau's granddaughter, Marguerite Boismenue. The house is listed on the National Historic Record, and tours and parties featuring dancers wearing period costume raise funds for its renovation. Visit The Jarrot Mansion
Vital gained and lost fortunes in lifetime adventures
Vital Jarrot inherited a vast fortune along with his family's political ties and Indian trade, and during his life he helped build the first railroad in the Mississippi River Valley, panned for gold in California, served in the Illinois Assembly, prospected in Colorado, built a long friendship with Abraham Lincoln, and served as Indian Agent for the Upper Platte in the 1860s. Yet he died, impoverished, in the Black Hills of South Dakota, in 1877.
Vital's father, Nicolas Jarrot, had immigrated to Cahokia from France and built a fortune through trading furs and amassing land. Contemporary records say he left 35,000 acres to his wife and seven children when he died in 1820. His widow, Julie Beauvais Jarrot, from a wealthy French family in Kaskaskia, controlled much of the estate. As the daughters married, and the elder son died, Vital, the younger son, became the family entrepreneur.
Vital was born in 1805 and educated as a lawyer at Georgetown University, where he graduated in 1823. The Pensoneau family became joined to the Jarrots when he married Marguerite Boismenue, Etienne's granddaughter. The couple had two daughters and a son before she died in 1841. Four years later, Vital married Mary Trottier, the granddaughter of Etienne's brother Louison; after her death in 1852, he did not marry again.
Vital's father had longstanding ties with William Clark, who served as administrator for Indian Affairs in Missouri following his journey to the Pacific Coast with Meriwether Lewis and the Corps of Discovery. Nicolas Jarrot served as interpreter for Lewis in the St. Louis area and donated the land at Rivière du Bois (Wood River) where the Corps' crew built a camp and spent the winter of 1803-04. Nicolas also helped to organize and escort visits by Indian leaders to President Thomas Jefferson.
The Jarrot family also had close ties to John Reynolds, who was governor of Illinois during the Black Hawk War in 1832. While he was commanding the Illinois militia, Reynolds named Vital, then twenty-seven years old, an adjutant general with the rank of colonel. During the brief war, Vital met Abraham Lincoln, who served as the captain of a company of scouts, and the two became friends.
Vital used his family's fortune to invest in a number of business ventures, including the first railroad in the Mississippi River Valley. He, John Reynolds, and several others built the Illinois and St. Louis Railroad in 1836 and 1837 to carry coal from mines Reynolds owned along the riverbanks up to wharves near Illinois Town, now East St. Louis. The cost of building the six-mile line and running it was enormous, even though just wood, rather than iron, was used for the rails, wheels, and train cars. The contractor hired hundreds of workers, built houses for them, and sank pilings eighty feet deep for a trestle across the Great Marsh.
Coal had been discovered in the area after Trappist monks, who were living atop the Great Mound on land donated by Nicolas Jarrot, observed smoke rising from an area along a span of riverbank that had been struck by lightning. Apparently, tree roots had exposed a seam of coal. The monks left after several years, tired of illnesses contracted from the polluted water of Cahokia Creek, and eventually the Great Mound, one of a series constructed centuries earlier by Native Americans, became a public park.
Shortly after the railroad's horse-drawn train cars delivered the first loads of coal in 1837, the investors decided to sell the line in the face of enormous losses. It sold in 1838 for less than the cost of building it, and Reynolds wrote that he personally lost $17,000. Losses for the other investors ran about $12,000 to $13,000 apiece.
One factor that complicated shipping arrived with a lieutenant of the Army Corps of Engineers, Robert E. Lee, who directed several years of dredging and building dikes along the Mississippi River. The goal was to ensure that the western side remained deep so St. Louis could continue to grow as a major port. The project succeeded, and by 1838, the Cahokia side was ten feet shallower, while silt filled in the channels between Illinois Town and the islands.
Vital began a political career by serving in the ninth Illinois state Assembly, 1835-36, and the 11th session, 1839-40. He joined in many of Lincoln's efforts in the statehouse, and a biographer notes that he was "in the first being an associate of Abraham Lincoln and always his firm friend and admirer."
Vital started a Native American newspaper and other businesses in Illinois Town, but a devastating flood in 1844 literally washed everything away. By 1849, he had joined the Gold Rush in California, and he returned with a modest fortune to replenish the family's coffers. A few years later, he tried mining in Colorado, but success eluded him there, and in other ventures, including a rolling mill.
He served as mayor of East St. Louis and lived in the large brick house there that Etienne Pensoneau, his wife's grandfather, had built in 1810 at the intersection of Main and Menard streets.
Vital also maintained ties with Indian tribes as part of the family trading business, and in 1865 he drew on his friendship with Lincoln, who was then President of the United States, for an appointment. Vital asked Lyman Trumbull, a U.S. Senator from Illinois, to put his name forward as Indian Agent for the Upper Platte, a position that had become open. Lincoln agreed with the idea and wrote on January 19, 1865, "I personally know this man—Vital Jarrot—to be one of the best of men; & as I believe, having peculiar qualifications for the place—and I shall be glad to appoint him if no obstacle be known at the Department. A. LINCOLN." The appointment was confirmed by the U.S. Senate on March 3, 1865.
Vital served at Fort Laramie for several years before returning to Cahokia, and contemporary accounts say that his many friends among the Plains Indians would come to visit him and camp on the grounds of the Jarrot Mansion. When gold was discovered in the Black Hills in the Dakotas, Vital ventured off again in search of fortune. But luck ran out this time, and he died at age 72, on June 5, 1877, near Rapid City, South Dakota, "of exposure and toil." His body was brought back to Cahokia for burial in the cemetery of Holy Family Church.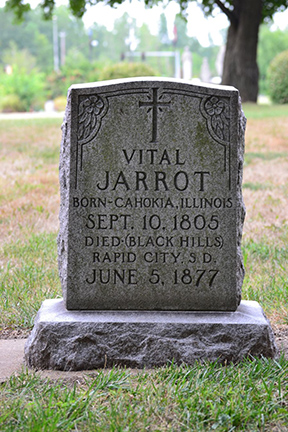 Vital's gravestone stands at Holy Family Church. (Photo by Val Dale)